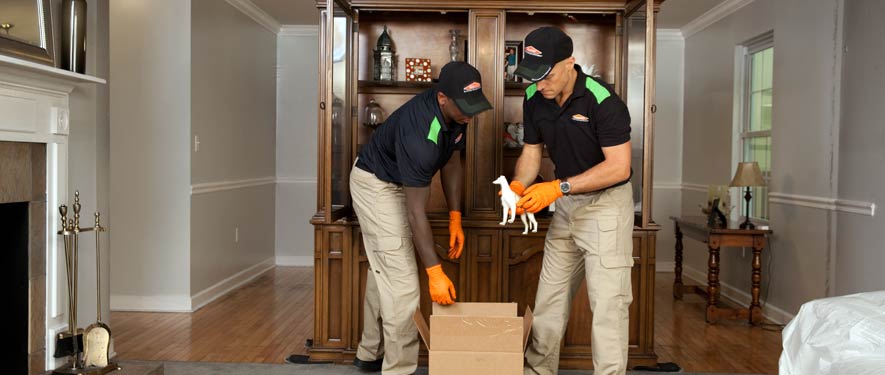 Step 5: Cleaning and Sanitizing
Depending on the severity of the water loss and the contamination levels, it's quite possible your home will need to be cleaned and sanitized. We aren't just talking about a quick scrub down with an antibacterial wipe either. We clean the structure of your home, as well as any belongings that can be restored like clothing, furniture, and upholstery. If you've got items that tend to spell when wet, don't worry about that either. We also provide odor removal. We're still drying while we're cleaning, too so the drying process isn't disrupted. This allows you to get back to normal as fast as possible.
Contents Restoration
SERVPRO of West Fort Worth specializes in restoring contents damaged by fire, water, or mold. Our expertise and "restore" versus "replace" mentality can help you save money while preserving precious keepsakes that can't be replaced. Learn more about Contents Restoration.
 Dry Cleaning
 Wet Cleaning
 Spray and Wipe
 Foam Cleaning
 Abrasive Cleaning
 Immersion Cleaning
Odor Removal and Deodorization
We are trained to identify and eliminate offensive odors. Our technical expertise and industrial grade air scrubbers and fogging equipment go well beyond simply masking odors and other shortcuts that don't work when your odor problem is serious or persistent.
 Odor Removal and Deodorization
 Air Scrubbers and Fogging Equipment
Sanitizing Treatments
Depending on the scenario, we may use antimicrobial, antibacterial, or disinfectant treatments to clean your property.
 Antimicrobial and Antibacterial Treatments
 Sanitizing and Disinfectant Treatments
Disposal
We will remove and dispose of damaged materials with guidance from you and your insurance adjuster.
 Properly Dispose of Refuse